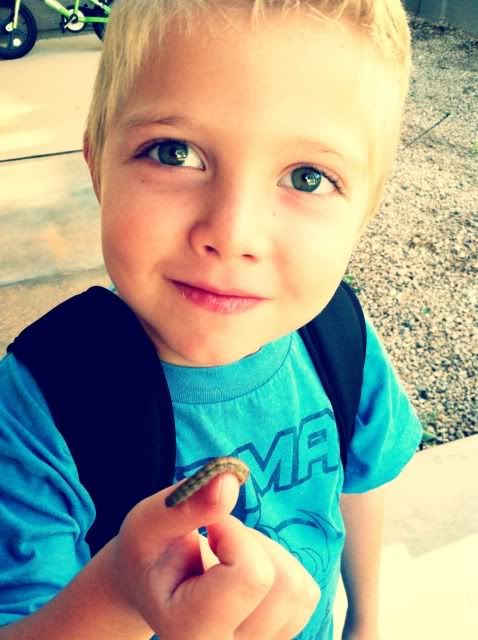 and he hates going to school. Hates it. This is Zack 5 minutes before his ride came to pick him up. Happy. Finding a caterpillar after last night's storm seemed like an answer to prayers to get him out the door happy. Until he dropped it in the grass on his way to show is buddy. Then the tears started. The 'please don't make mes' the 'mommy I want to stay homes' the 'I'll miss yous' all said in betwixt and around hugs & tears & 'get your buns in the cars.'
And now you know what? I hate school too. But I've learned a couple of things: Home is a place he likes to be & that makes me beyond happy. He will still hug me in public & tell me he loves me. What's not to love about that? He still wants to each lunch with me...even if its at school...instead of his friends. He's smart. He teacher reports near-perfect behavior at school & his homework shows he is understanding all the new things he is learning. He goes to a wonderful school. They are pushing him...and like a good boy, he's showing he has some fight. I'm glad he has some fight & is willing to let it all hang out at home. I'm glad he is relying on me to be his advocate...I just wish he was on the same page as me about school.
Hopefully one day soon.
Until then, I will be here with the little crazies & my design, because sometimes, I just need something to keep my mind busy in the hours that he is gone.